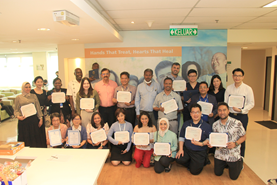 From November 12 to 26, 2022, the 3rd International Training Workshop on Focused Ultrasound Therapy for Tumors, funded by the Department of International Cooperation, Ministry of Science and Technology, the People's Republic of China, and China Science and Technology Exchange Center, and co-organized by Science and Technology Bureau of Chongqing Municipality, Chongqing Medical University, Mahkota Medical Center and ISMIVS, was successfully held in Malaysia.
This year, 25 participants from 11 countries, including Indonesia, Philippines, Egypt, Ethiopia, Singapore, Malaysia, Germany, Thailand, Nepal, Tanzania and Mexico, were enrolled in this 15-days training program.
On the opening ceremony of the training workshop, Mr. Liu Hua, L1 Investigator, Division of Integration and Planning, International Cooperation Department, China Ministry of Science and Technology, said "focused ultrasound ablation therapy is an innovative and open technology, digging a new way from invasiveness to minimal invasiveness, then to noninvasiveness. This Training Workshop has responded the call of China's development strategy in building an innovation country, exploring a path of assisting foreign countries with science and technology, and transforming from China-made to China-invent".
Mr. Stanley Lam, the CEO of MMC, said, "MMC is grateful to work closely with our key partners in co-organizing this training workshop, boosting the knowledge of HIFU among a broader health workforce to bolster treatment services and support for women's health. Addressing the health concerns among local and international communities has always been our top priority. Following this workshop, MMC hopes to encourage many more women with gynecological issues to opt for HIFU treatment.
After 2-week training sessions and hands-on experience using HIFU, the 25 trainees were granted completion certificates issued by the Ministry of Science and Technology of the People's Republic of China on November 25. Dr S. Selva, Obstetrician & Gynaecologist, and Reproductive Medicine Specialist of MMC, also one of the chief lecturers, shared that "As the first hospital to introduce ultrasound-based HIFU technology in the country, we are happy to be able to provide this option to women in Malaysia and globally. Since its availability in July 2021, we have treated over 300 women not only from Malaysia but international patients from Indonesia, the Philippines and Pakistan. I hope this technology and this workshop will propagate this technology globally, enabling more women to preserve their fertility and achieve their dreams of becoming mothers."
The trainee representative, Dr. Anthony Philip from Kenya, said on the closing ceremony "it is hard to put into words what a wonderful event it was, and I am so glad that the HIFU technology brought the participants with different cultural backgrounds together. The advanced technology of minimally invasive and noninvasive medicine, the rich historical and cultural accumulation of each country and the deep friendship that has been slowly interwoven in this 15-day training and burst with incredible power. I am honored to be a part of this workshop and on behalf of all the participants, I would like to express my heartfelt gratitude to the Chongqing team, MMC and Dr. S. Selva for their efforts in doing so. Today is not the end of the story, HIFU will keep our connection alive and I wish you all the best in your HIFU application journey and hope to see you all again at the HIFU Center in Chongqing".