2022 APAGE-OGSM-ISMIVS Conference for Minimally Invasive and Noninvasive Surgery (Malaysia)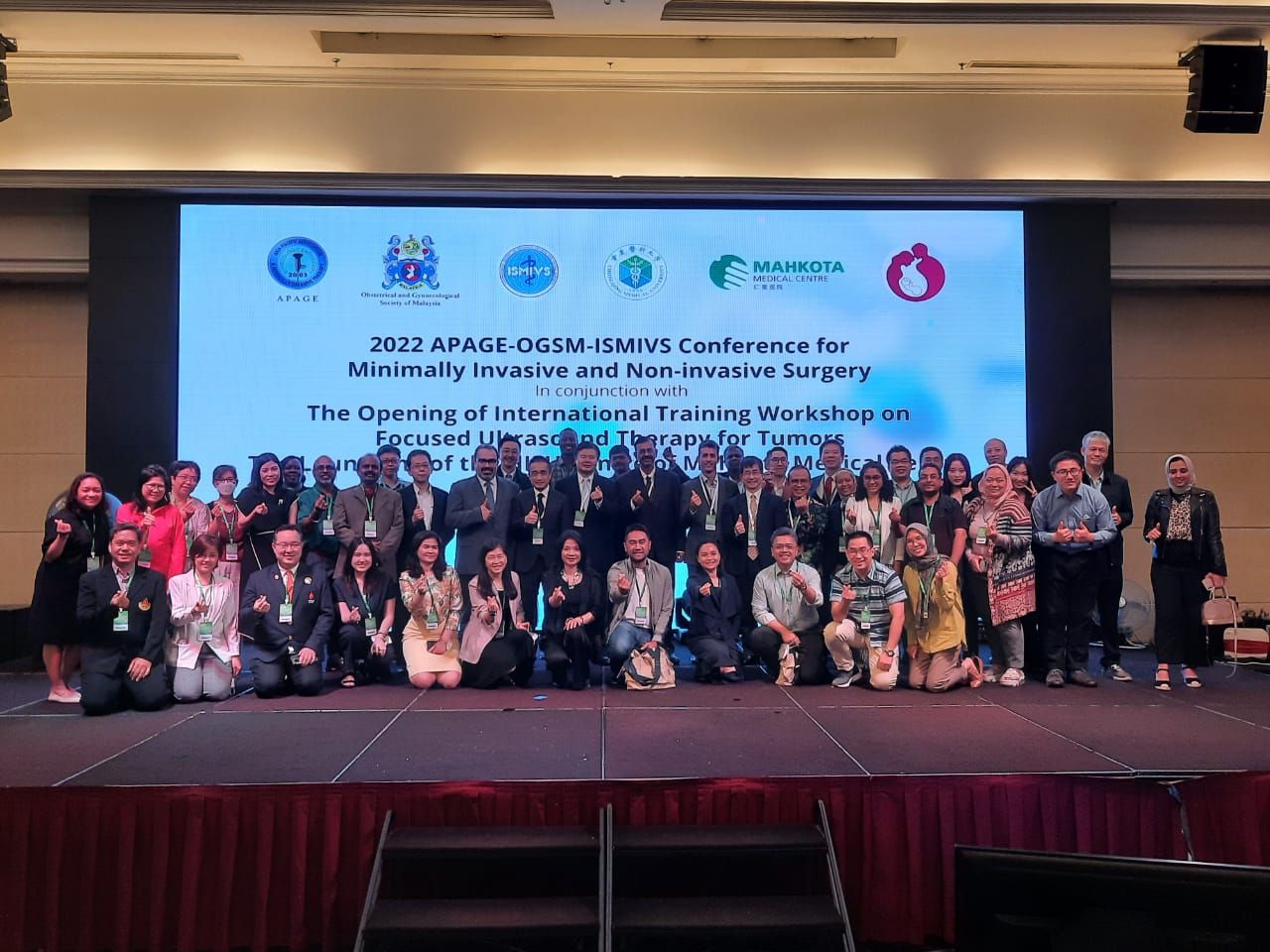 Under much anticipation, the 2022 APAGE-OGSM-ISMIVS Meeting for Minimally Invasive and Noninvasive Surgery was successfully held in Melaka, Malaysia on November 13, 2022. The meeting, co-organized by Gynecologic Endoscopy and Minimally Invasive Therapy (APAGE), Obstetrical & Gynecology Society of Malaysia (OGSM) and International Society of Minimally Invasive and Virtual Surgery (ISMIVS), addressed the topic of Laparoscopic Surgery and High-Intensity Focused Ultrasound (HIFU) therapy. Co-chaired by Dr Andy Tan (Singapore General Hospital) and Prof. Chyi-Long Lee (Chairman and Board of Trustees of APAGE), the meeting was joined by experts and scholars from all over the world who shared their experience and insights on minimally invasive and non-invasive treatment.
Prof. Feng Wu from Oxford University addressed the topic of HIFU ablation and antitumor immune response. The best scenario in cancer therapy is killing all tumor cells including primary and metastatic sites without causing any harm to healthy cells in the body. As non-selective radiotherapy and chemotherapy have strong side effects, professor Wu raised the possibility of manipulating an immune response against tumor cells but not normal cells, and list studies on the immune response after HIFU treatment. In conclusion, he noted that HIFU Therapy not only induces the death of all localized tumor cells without damage to healthy cells but also activates systemic antitumor immunity.
Focusing on the application of HIFU technology, Prof Mohamed Hamed (from Cairo University) gave a lecture on the Management of liver tumor & HIFU applications in other extended indications. Professor Hamed listed the advantages of HIFU technology, which is non-invasive and re-treatable with high safety profile and no ionizing radiation, and shared related cases and studies.
The president of the International Society of Minimally Invasive and Virtual Surgery (ISMIVS), Prof. David Cranston from Oxford University Hospitals shared their experience on the clinical treatments and trials of HIFU therapy. He noted the results showed that there was an increasing number of studies showing the effects of HIFU treatment as good as other localized treatments and the side effects were less.
Professor Jordi Rodriguez and Dr S. Selva focused on the topic of HIFU and fertility. Prof. Jordi Rodriguez shared their studies on the pregnancy outcome after HIFU, which was a single-centre result from Spain. He mentioned at the end of the speech that USgHIFU therapy was an effective and safe treatment for uterine fibroids and it seemed to be the first therapeutic option in women with uterine fibroids and gestational desire. Dr. S. Selva also gave a detailed presentation on how could HIFU help with infertility with adenomyosis.
Dr. Kim Tae See introduced his experience on how to enhance HIFU sonication. He shared some measures to improve the safety of the treatment. By reducing sonication power, exposure time and air bubble, the complication rate could be lowered. He also listed other methods such as protecting nerve by making a distance from the sacral area.
Dr He Min from the Chongqing Haifu Hospital also introduced the application of HIFU technology and focused on the training experience in China. On the same day launched the opening ceremony of the 2022 International Training Workshop on Focused Ultrasound Therapy for Tumors, which gathers momentum for the development of HIFU technology.